Moore Estates in Hampshire, breed beautiful Orpington Bantam chickens; live poultry for discerning first time owners, fellow enthusiasts and specialist breeders.


Orpington Bantams For Sale:

Gold Laced Orpington Bantam - Hatching eggs

£30 batch of 6 - Delivery £7 Next Day

Gold Laced Orpington Bantam - Pullet 10 week

£25 each - Collection by appointment

Silver Laced Orpington Bantam - Hatching eggs

£25 batch of 6 - Delivery £7 Next Day

Silver Laced Orpington Bantam - Pullet 10 week

£50 each - Collection by appointment

Jubilee Orpington Bantam - Chicks

Price on application
Chocolate, Gold and Silver Lace Orpington Bantams;
Jubilees available soon!
We home breed carefully selected Hens, Cockerels, Chicks, Chooks, Pullets and can supply Trios, Pairs of Birds and a limited supply of high quality Orpington Bantam Hatching Eggs.
From time to time and maybe depending on stock levels we also have some recently hatched Orpington Bantam chicks. Currently we have available (and/or are breeding and bringing-on) Gold Laced, Chocolate, Silver Laced and Jubilee Orpington Bantams.
Happy to help you with Orpington Bantams
Enthusiasts ourselves we enjoy enabling new and experienced home hen keepers whether it be to develop your own breeding stock or to help get you going with some beautiful first home garden hens…Happy to Help just give us a call to discuss your own Orpington Bantam interests on +44(0)77365 10000
Friendly, attractive & good size, Orpington Bantams make great pets...
We are mad about Bantams because they are ideal for home pets, not too large, good with children, have a friendly temperament and enjoy living at home in manageable runs or fully free range.
Their eggs are a good size and they are good layers, meaning you can expect a reasonable yield of about 150 to 180 eggs a hen depending on the quality of their feed and environment.
Outdoor Hens are Happy Hens so with a run and small house you can very quickly have a happy and productive trio. We recommend keeping chickens in threes or more and of course if you wish to hatch from your own birds you will need a cockerel and two hens as a minimum.
Like all pets they need a little kindness and looking after but we can always point you in the right direction in terms of what you need to get started and the basics of how to look after your Hens.
Gold Laced Orpington Bantams, Pullets, Cockerels and Hens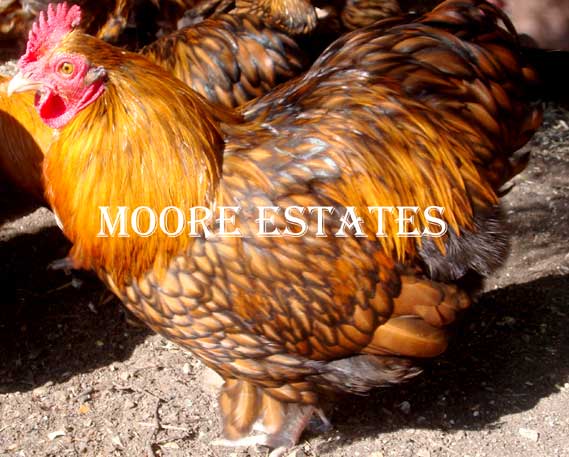 Our Moore Estates breeding stock for our Gold Laced Bantams are beautiful. Perfectly shaped in true Orpington Bantam Standard and rich Golds (not the muddied tans we have seen on lesser stock).
The Gold Laced is spectacular in both hens and cockerels and a bright and vibrant addition to any one's flock or 1st Trio. Please ask in plenty of time as advance orders are taken so that as the birds mature they can be provided to our select customers who range from experienced enthusiasts to first-time keepers of family hens for the garden.
You can see from our pictures how lovely these birds are and how these colours accentuate the shape and fluffiness of the Orpington Bantams.
Chocolate Orpington Bantams, Hatching Eggs, Pullets, Cockerels and Hens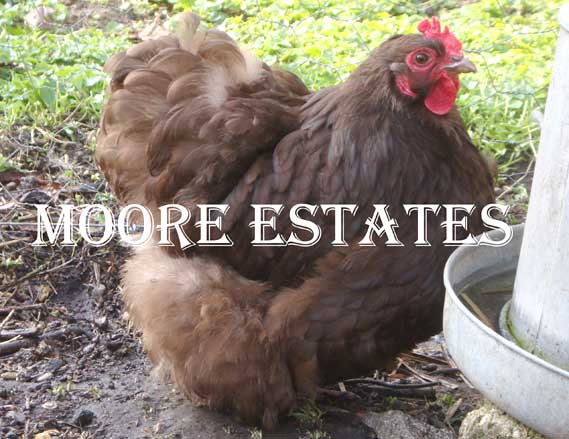 The distinctive chocolate gene is particularly suited to the shape and form of our Orpington Bantams, which are 'show' quality and deep rich chocolate.
The breeding programme to retain this distinctive colour and the quality of it, needs careful and patient control. We have seen again that our birds our truly chocolate and that many advertised as such are quite pale in colour bordering on turning to a watered-down version of the true colour. Our home reared birds are the real thing. So be careful what you see advertised as chocolate as if you buy a lesser colour it is likely to dilute over time if you intend to breed onwards.
Silver Laced Orpington Bantams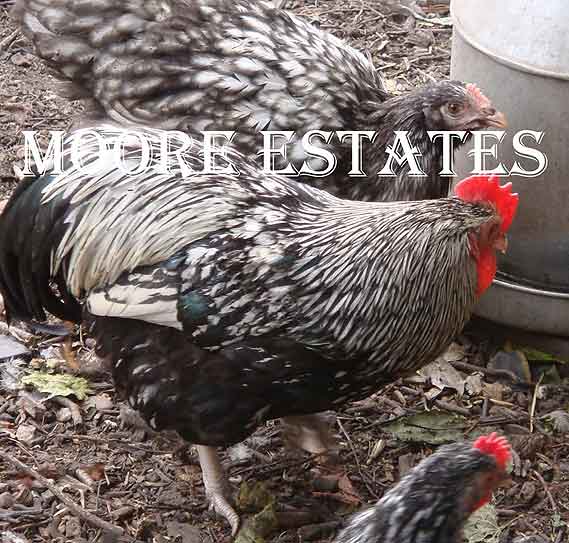 We are building our breeding stock of this line and will have a limited supply available before next season so please get in contact if you are interested.
The Silver Laced has very majestic and dramatic combinations with the black and white lacing making these birds very aristocratic, amongst any flock or as a small group on their own.
Their striking appearance will grace any garden or small-holding. Again please call on 077365 10000 or email if you are interested in discussing current availability or an advance order.
Jubilee Orpington Bantams Currently Breeding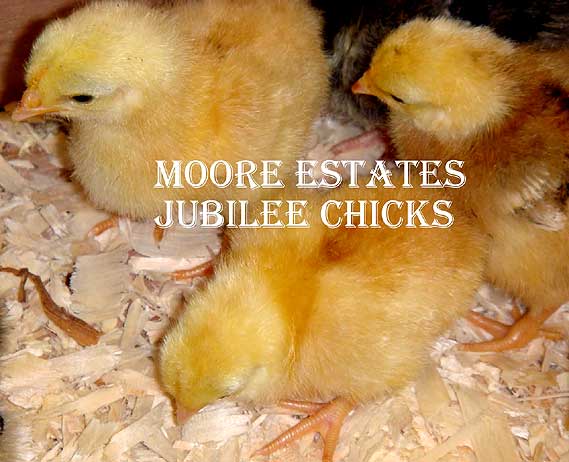 Jubilee it is believed was originally bred to commemorate the Diamond Jubilee of Queen Victoria and whilst not fully documented it is believed to be the descendent of the Speckled Sussex and Buff Orpington. These rare birds are very much coming back into vogue but are in short supply. They have an interesting history as it is reported that being originally a British breed Hitler ordered the destruction and culling of all British breeds during WW2.
We are currently developing our breeding stock of Jubilees and will then bring on our birds, of which we will make a small quantity available in advance of next season.
These are currently quite rare and over time have been in and out of fashion but they are very lovely and attractive either on their own or amongst a larger mixed collection or flock.
Jubilee colour variants: Mahogany, Ginger/Buff
There are two variants of Jubilee the Mahogany grounded colour is the traditional bird and a lighter more ginger to buff ground colour which is the specific of the Diamond Jubilee. It is believed that after WW2 the breed was recreated in Germany. The feather pattern is very complex and it can take a long while for the birds to be fully finished in terms of patterning and colour so patience required! The Chicks look nothing at all like the end result so all a genetic marvel really.
Again when considering buying Jubilees make sure the colours are right the plumage should be bright and vibrant a mahogany with black spangle and white the colours or if the ginger buff variant then the colours will vary accordingly. The spangle should be well broken and not blotchy or tending too much towards the Millefleur. The spangle should be even and well defined. The combination of the fluffiness with the Jubilees is what to look for, poorer stock lacks the distinctive Orpington Bantam soft contours and rounded shape and form.
Jubilees and Diamond Jubilees are very much emerging at the moment so take care what you buy and don't be lulled into a poor cross which looks more like the blotchiness of the Millefleur passed-off as Jubilee make sure you can see the difference!
These lovely birds are much in demand, so take time to choose a breeder that has birds of the quality you like and can afford. If you want to onwardly breed yourself its vital to get good stock. Call us 077365 10000 ask for Russ at Moore Estates as soon as you can to place advance orders for the quality birds we will be bringing on, you can arrange to come and collect when they are ready no problem.
Hatching Eggs and Breeding Chicks
With some patience and due care, some research, an incubator and good quality hatching eggs from a reliable source, you can hatch your own chicks from fertile eggs. Please be aware that fertility rates and hatch rates are not wholly predictable, it's really a case of being quite careful and precise buying eggs from a good source and aiming for a reasonable hatch rate.
We prefer to arrange with limited supply of hatching eggs collection by the customer but we will also post carefully in polystyrene boxes with exterior careful packaging sent UK only by special delivery.
We can provide guidelines of what is recommended in keeping the eggs but can take no responsibility for fertility and hatch rates. We reliably get a high hatch rate ourselves and any eggs we release are from our own stock so we are certain of the overall potential fertility and hatch rates we achieve ourselves.
We will also provide Chicks to customers who would like to grow and bring their own birds on certain that they have a hatched live Chick and hence increasing their likelihood of successfully rearing the Chick to a Pullet and bringing it on to lay within about 3 months.
Determining the Sex of your chicks
When buying chicks depending on the age of those chicks it may or may not be possible to sex the chicks. So please make sure when you buy that if you do not want cockerels you purchase at an age when this can be determined.
Please Call 077365 10000 or Email : rjm@mooreestates.co.uk for information on currently available Hatching Eggs for our Orpington Bantams.
Project Colours: Variety of Colours and Patterns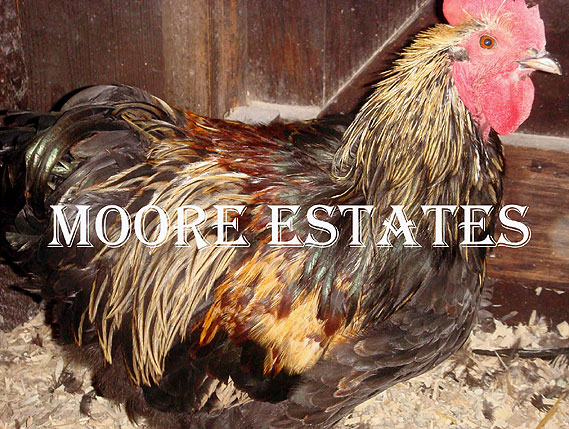 The beauty of all chickens is that whilst in nature all chickens feathers start out as white, there is a wealth of colours and pattern combinations possible which change over time with the interests and fashions of the moment.
Breeding and creating new colour and pattern combinations takes a lot of time and patience. It is both an art and (more obviously) a science. Visualizing what you want to create and deciding on what to cross with what imvolves all the complexities of dominant, recessive and sex-linked genes. Even the genes associated with just the one type – Orpington Bantams - that we specialize in can be a highly challenging task.
It's not an overnight process, it can take 4 years to breed in a new combination but its also great to see your hens grow and maybe create their first set of chicks. Most specialist breeders have projects in hand and in mind.
Our approach is to always to breed from the best possible birds keep the quality high, keeping the shape and breed characteristics very good and true, together with the colours and patterns we and our customers enjoy seeing the most.
Our current areas of interest and exploration are around the combination of Lacing and Patterns combined with vibrant colour combinations and further developing the breeding stock we have already developed. Definitely a work in progress, as we update and expand our site we'll tell you more about how are breeding plans and crosses are developing.
Happy to hear about your ideas and projects, always learning is the best attitude to this pastime for sure.
Other Colours and Combinations:
Please do let us know if you have a specific interest in colours and patterns as we are always keen to hear and we maybe able to put you in touch with our network of trusted fellow breeders.
Contact Us:
Email: rjm@mooreestates.co.uk
Telephone: +44 (0)77365 10000